This offers teachers and their departments high-quality support to address the reasoning and problem-solving challenges of the maths curriculum and its assessment at GCSE. Much expertise and exemplification has built up over the years as part of this work. Participants will access this work to stimulate further developments and collaborations. Professional development activities will focus on practical and accessible classroom-based approaches.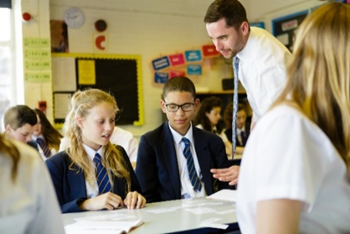 Who will be leading the group?
Sally Bamber and Lloyd Rickards
Sally and Lloyd have co-led Mathematical Reasoning work groups. Sally is Maths PGCE Lead at the University of Chester and an experienced NCETM Accredited PD Lead. Lloyd is an experienced Head of Maths in Herefordshire.
Sally Bamber (Dr) is currently the lead for the Secondary Mathematics PGCE and Mathematics Enhancement Course (a Subject Knowledge Enhancement Course for non-mathematics graduates training to teach mathematics) at the University of Chester. She moved into teacher education in 2006 following 15 years mathematics teaching experience in four diverse schools. Sally is currently a TERN Research Fellow, collaborating with colleagues from a number of North West Higher Education institutions. Sally's current research interests include deepening mathematics understanding using art images in KS2 and KS3 and raising attainment in GCSE mathematics for middle to lower attainers http://www.bsrlm.org.uk/IPs/ip36-1/BSRLM-CP-36-1-04.pdf . Sally is an active member of the British Society for Research into Learning Mathematics and the Association of Mathematics Education Teachers.
Who is it for?
All secondary maths departments and teachers wishing to begin or continue a programme of professional development to address the reasoning and problem-solving challenges of the mathematics GCSE. The approaches attempt to address not only the longer development of these skills across all teaching but also the needs of current KS4 pupils as they approach GCSE.
What are the intended outcomes?
Participant teachers and their departments:
will acquire a deeper understanding of the role of reasoning and problem solving in the mathematics curriculum and how these skills are tested at GCSE.
will broaden their repertoire of classroom approaches to support the development of pupil's mathematical reasoning and problem-solving skills in all lessons.
will understand how to plan for further improvement to embed and sustain progress in this area.
will begin to see pupils demonstrate increased confidence in reasoning and problem- solving while deepening their understanding of the mathematics content itself.
What will it involve?
Attend 3 full day workshops and carry out a series of follow up tasks within their own classrooms, including Lesson Study allowing wider department participation in the professional development.
What is the cost?
Free
Cover costs of up to £200 per day will be paid for teachers in their first two years of teaching. Please indicate where requested on the booking form.